Company News

Shared growth / Social contribution Eco-friendly automotive interior parts AI-based external quality inspection joint usage platform technology has been selected as a national project
Date 22-06-30 11:56
Views 61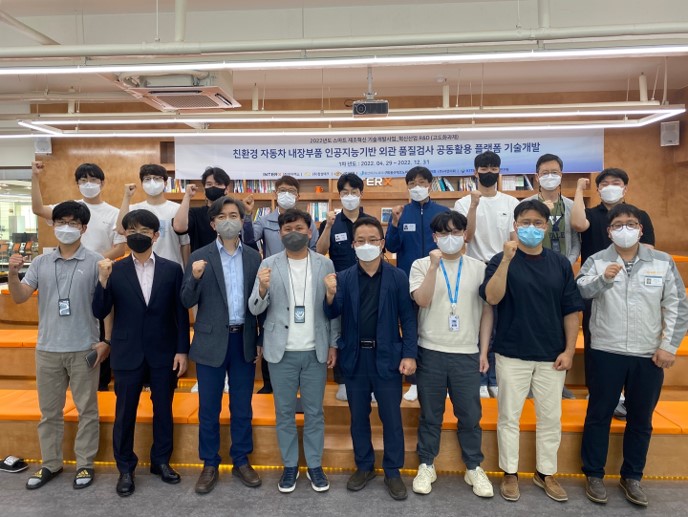 'Seoyon E-Hwa' was chosen as a consigned research and development institution, along with partner companies Changseong Tech and Sungjae, for the new Ministry of SMEs and Startups' smart manufacturing innovation technology development project in 2022, which will be hosted by the Korea Technology and Information Promotion Agency for SMEs (TIPA). 'Development of platform technology for collaborative usage of AI-based external quality assessment for eco-friendly automotive interior parts' is the subject of the research project.
Seoyon E-Hwa's mission this time has been to construct a standardized quality management system by performing exterior inspection, which is the emotional quality of interior components for eco-friendly automobiles, using AI, and developing a shared data platform in the cluster among parts suppliers.
The host organization is 'InterX,' a SI firm, and Seoyon E-Hwa is in charge of developing quality management standards at the top of the supply chain for eco-friendly automotive interior parts, as well as establishing a system for integrating quality information via a single platform.
This research project is anticipated to contribute to guaranteeing the emotional quality of eco-friendly vehicle components, and it will be carried out with the crucial objective of securing quality technology utilizing AI in line with the 4th industrial revolution age.
Seoyon E-Hwa joined in this initiative to increase the quality level and production environment of its suppliers, and to lay the groundwork for future manufacturing technologies. Through 50 years of accumulated quality data and management systems, new technological changes have been accommodated to introduce AI and cloud-based platforms, which are expected to significantly contribute to shared growth by carrying out technology developed jointly with secondary and tertiary partners, not just Seoyon E-Hwa's growth. Moreover, the industrial environment is not a single company, and when digital transformation and total quality management integration across the supply chain are essential, Seoyon E-Hwa is expected to lead the way.
This project will last four years, from 2022 to 2025, and the overall project cost is around 3.7 billion won, with the government investing approximately 2.8 billion won. The model line is developed in the first and second years in partner companies, Changseong Tech and Sungjae, and will be expanded to three to five partners in the third and fourth years, and the data integration system will be designed for integrated management between Seoyon E-Hwa and its partners and will be based on the manufacturing platform (KAMP).